Greek Blues: Rembetika Re-invented
Ouzo Power is an award-winning 4-piece bouzouki-dominated world music blues/rock band that reinvents and invigorates traditional Greek blues, blazing a trail through heavy metal and reggae to love songs and reinterpreted Bob Dylan.
Greece's underground blues music known as Rembetika, unlike the American rural based blues, was an urban music with roots reaching back to Ottoman cafe music, a synthesis of European music, Orthodox ecclesiastical chant and traditional Anatolian dance rhythms.
George Sapounidis, Ouzo Power's front man, is a gently charismatic bouzouki master, who performs with an intensity and passion that comes from the soul, a soul that bears the genetic imprint of a people steeped in non-conformity. He is a rock bouzouki-playing polyglot with Greek roots in Asia Minor who is a self-declared 21st century Rebetis, an intercultural musical pied piper, subject of two international documentaries and two-time Olympic torch bearer who also happens to be a singing sensation in China. He holds a PhD in mathematical statistics.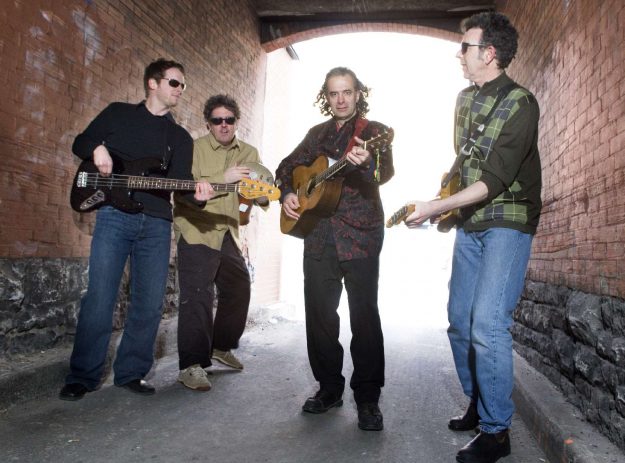 "A Troubadour-Savant…you are a perfect human bridge."   – Sheila Rogers , CBC Radio,
…"electrifying "…"fiery vocalist…"    – Waterloo Region Record
The Greek Rembetika was a subversive music of protest and of raw human emotion, a music of the despised and repressed Greek underclass or Rebetes, refugees fleeing the Greco-Turkish war of the early 1900's. Forced into slums and shanty towns, they found escape in the hash dens of the underworld and like the blues culture of Harlem, Rebetika music was coded nonconformist music, almost disappearing in the 1950's but emerging again in the 1960's with a new generation of young people protesting Greece's military dictatorship.
The band's CD titled Ouzo Power Greatest Hits (Volume 1) was nominated in the World Group of the Year category at the 2011 Canadian Folk Music Awards.
In creating Ouzo Power, Sapounidis pulled together a trio of Canada's top musicians on bass, drums and electric guitar. Fred Guignion's electric guitar stylings have been featured on countless albums as well as film, theatre and sound tracks. Ross Murray, on drums, has accompanied bands, composers, choreographers and film-makers world wide. He is also a well known producer and recording engineer in Canada. His unique style, influenced by exposure to diverse cultures, has been in demand by bands like Mighty Popo, Hammerheads and the East Village Opera Company as well as stellar artists like Bo Diddly and Sneezy Waters —